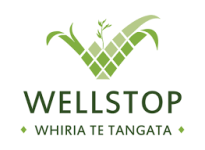 Clinician
Full Time
Manawatū-Whanganui
Location – Palmerston North
The position is - 40 hours per week (1.0 FTE), - days Monday to Friday.
Full Time equivalent: Full Time
WELLSTOP
▪ Collaborative and supportive environment
▪ Fantastic wellness policies offered
▪ Opportunities for learning and development
▪ Aspiring towards working from a Māori world view
The Agency
WellStop is an innovative and well-established agency. Our aim is to eliminate harmful sexual behaviour in our communities by providing assessment and treatment services to children, young people and adults who present with harmful sexual behaviour. Our Clinicians make a significant difference in the lives of people, whanau, and communities by working with our clients to address and prevent the effects of sexual harm/violence.
WellStop is committed to upholding and protecting the principles of Te Tiriti o Waitangi in our work. We believe in enhancing the mana of whanau through understanding tikanga and building relationships with mana whenua. Together with our network, we commit to whakapapa, rangatiratanga, kaitiakitanga, whanaungatanga and manaakitanga.

The role
We are looking for a Clinician to bring their experience to this team. The purpose of the role will be to assess the needs of families where there has been sexual offending or harmful sexual behaviour, and to provide clinical services to clients needing transformation in their lives. The Clinician will work with child and youth. The role will also involve working in the area of mental health with youth who have experienced trauma.
Some travel to Levin may be required (work vehicle provided).
We are a supportive, dedicated, and fun team of Clinicians who take pride in the quality of our work. If you think that our mahi is a good match for you, we would love to hear from you.
The ideal candidate will have:
▪ A recognised qualification and registration in psychology, social work, counselling or similar
▪ Be registered with a professional body and have a current Practicing Certificate (or be in the process of obtaining)
▪ Training and experience in delivering clinical and evidence based interventions
▪ Experience in the use of psychometrics
▪ Assessment experience
▪ Risk assessment and Safety Planning formulation
▪ Report writing experience
▪ Experience in working with issues of sexual abuse, trauma, mental health and/or intellectual disability would be advantageous
▪ The ability to work in a culturally responsive manner that demonstrates a commitment to Te Tiriti o Waitangi including experience with Kaupapa Māori models of practice.
▪ Experience of working collaboratively and effectively in a multi-disciplinary team
▪ You may be required to drive so a FULL NZ driver's licence is required
To be considered for this position you must already be resident in NZ and have either NZ residency/citizenship or a valid and current NZ work visa already applicable to WellStop.
What we will provide to you:
▪ A satisfying role where you can use your skills to really make a difference in the lives of families who are striving to move beyond harmful sexual behaviour
▪ A great work environment with dedicated colleagues
▪ Five weeks annual leave per year
▪ Generous Wellbeing Allowance for all staff
▪ The opportunity to work creatively and flexibly and learn new models of practice
▪ Regular supervision
▪ Ongoing professional development opportunities
▪ Opportunities to learn Te Reo Maori
▪ Professional body membership fees paid
▪ Opportunity to expand your skills to work with a variety of clients.
To apply
To view the position description, visit our website – www.wellstop.org.nz
To apply for this position please email your CV and cover letter – to melissa.fieldsend@wellstop.org.nz by 5pm Monday 4 November 2023.
For any questions you might have, please contact Melissa Fieldsend, Eastern/Central Team Leader 021 349 549.