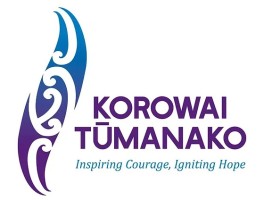 Kaiāwhina/Therapists
Kaiāwhina
Kei Tāmaki Makaurau ngā tūranga, kei te Uru o Tāmaki, kei Te Tai Tokerau rānei

Kei te rapu koe i tētahi huarahi mahi e whai wero ana, e whai painga ana hoki?
Ko wai mātou
He whakahaere iti a Korowai Tumanako e tipu ana, e mahi tauwhiro ana, e arotahi ana ki te rāngai pāwhera. Ka whakawhiwhi atu mātau i te whānuitanga o ngā momo ratonga pēnei i te mātauranga, te rangahau, te mahi haumanu, te whakawhiti kōrero me te mahi aukati hoki. Ka tauawhi ngā kaimahi katoa i ngā tirohanga nō te ao Māori, tae atu ki ngā mahi whakamana i te mātauranga Māori hei huarahi whaitake ki te ora mō Ngāi Māori me tauiwi hoki.
Mō tēnei tūranga mahi
Ka riro mā ngā kaiāwhina e tuku ratonga ki ngā kiritaki, pēnei i te mātauranga, te rangahau, te mahi haumanu, te whakawhiti kōrero me ngā mahi aukati. Ka noho haepapa rātau ki te whakawhiwhi atu i ngā ratonga whāiti mō te aromatawai me te whakahaumanu ki ngā tāngata kua mahi pāwhera ki ngā tamariki me ngā rangatahi, tae atu ki ētahi atu tāngata o te hapori. Hei āpiti atu, me whai akoranga, me whai kaitohutohu mōroto rātau.
Ngā pūkenga me ngā wheako
He tohu paetahi, he tohu paerua rānei mō te kōrero āwhina, mō te mahi tauwhiro, mō te mahi mātai hinengaro, mō te mahi whakahaumanu hinengaro rānei, mō tētahi atu rāngai rānei e hāngai ana. Heoi, ka whai whakaaro hoki mātau ki ngā kaitono e whai ana i tohu kē

He mātanga mahi hauora e rēhita ana i te Ture HPCA, i te rēhita Mahi Tauwhiro, i tētahi atu rānei e āhua rite ana

He pūkenga ki te waihanga hononga kaha ki ngā hoamahi me te hunga whai wāhi mai

Me whai i te raihana taraiwa o Aotearoa whakaehu katoa

Ka āta mātaitia e Te Manatū Whakahiato Ora (MSD) me ngā pirihimana hoki

Ka hāpai i tō mātau mana mā te whakamahi i ngā tikanga Māori ki roto i ngā mahi katoa.

Ka whai i ngā uara whānau, ka manawanui ki te mahi tahi ki ngā tamariki, rangatahime ngā whānau.

He mōhio ki te reo Māori me ngā tikanga Māori me te hiahia ki te ako haere me te āwhina i ētahi atu

He mōhio, he mārama ki ngā whai pānga mai o te pūwhenuatanga mai o tauiwi mō ngā tāngata whenua, mō Aotearoa whānui hoki.

He pūkenga, he manawanui ki te whakatinana haere i Te Tiriti o Waitangi.

Kei te hiahia mātau ki ngā kaitono nō ngā wheako maha, tae atu ki ngā mahi tūkino tarukino, waipiro hoki, ki te hauora ā-hinengaro me te waranga, ki te aukati whakamomori, ki te mahi tūkino whānau hoki. Ka whakaakohia ngā kaiāwhina ki ngā momo mahi ki roto i te tūranga, ka whakawhiwhia atu hoki he tautoko whakahaumanu ki ngā kaimahi.
KA KATI NGĀ TONO: hei te Rātapu, te 10 o Tīhema
MŌ TE TONO, MŌ TE TIROTIRO TĀTAI TŪRANGA: www.jacksonstone.co.nz
TAUPĀNGA: BH-10755
ME HE PĀTAI ANŌ: waeahia a Rachelle Russell, a Anastasia Gyson rānei i 04 550 8000.


Kaiawhina/Therapists
Tāmaki Makaurau based, West Auckland location or Te Tai Tokerau based

Looking for an opportunity that is challenging yet rewarding?
Ko wai mātou | About Us
Korowai Tumanako is a small yet growing social service organisation specific to the sexual violence sector. We provide a range of services including education, research, therapeutic, consultation and prevention activities. All workers will embrace a Māori worldview including honouring Māori knowledges as offering a valid pathway towards wellbeing for Māori and non-Māori alike.
Mō tēnei tūranga mahi| About the Role
Therapeutic staff are to directly provide a range of services including education, research, therapy, consultation and prevention activities. They are responsible for the delivery of specialist assessment and treatment services to people who have a history of harmful sexual behaviour towards children and young people, along with other members of the community. Also, the provision of training/education and internal supervision may be required.
Ngā pūkenga me ngā wheako | Skills and Experience
Bachelors/Master's degree in counselling, social work, psychology, psychotherapy, or other related health field. That said, would consider experienced candidates with alternative qualifications

A registered health professional under the HPCA Act, Social Work registration or similar

Ability to build strong relationships with peers and stakeholders

Have a full and clean New Zealand driver's licence

Undergo Ministry of Social Development (MSD) check and police vetting

Uphold the mana of our organisation through tikanga Māori in all interactions.

Have a strong sense of whānau values and a passion for working with tamariki, rangatahi, and whānau.

Competency in te reo Māori and tikanga Māori and a demonstrable willingness to share and learn

Knowledge and understanding about the impacts of colonisation for tangata whenua, and for Aotearoa New Zealand.

Ability and willingness to give effect to Te Tiriti o Waitangi.
We are encouraging candidates with backgrounds across a wide range of areas including but not limited to drug and alcohol abuse, mental health and addiction, suicide prevention and/or, domestic/family violence to apply. On the job training across the subject matter will be provided, as well as full therapeutic support given to team members.
KA KATI NGĀ TONO/ APPLICATIONS CLOSE: Sunday 10th December
MŌ TE TONO, MŌ TE TIROTIRO TĀTAI TŪRANGA / APPLY OR VIEW THE POSITION DESCRIPTION: www.jacksonstone.co.nz
TAUPĀNGA /REFERENCE: BH-10755
ME HE PĀTAI ANŌ / FURTHER ENQUIRIES: Rachelle Russell or Anastasia Gyson 04 550 8000